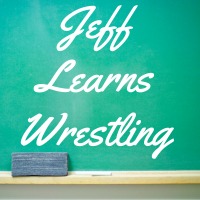 Tuesday Nov 07, 2017
Jeff Learns Wrestling #9: Honky Tonk Hatred, Macho Man Turns, A Forceful Strike, Bomb Angel Love & Much More!
Jeff Machado and JT Rozzero are best friends but Jeff has never been a wrestling fan... until now. With decades of wrestling history to catch up on, JT is leading Jeff's completely clean slate on an educational journey through the wonderful story of professional wrestling.
In episode nine, the boys are trekking through the summer and fall of 1987 and talking about the end of the Randy Savage/George Steele feud, Honky Tonk Man's ascent, the union of Strike Force, Randy Savage's change of heart, the wonderful Jumping Bomb Angels, Hentai porn and much, much more!
So, join us on Jeff's journey to learn all about pro wrestling, get sidetracked with us on many tangents and have a bunch of laughs along the way!